Dark Devotional: Getting Naked
The trees are getting naked around here.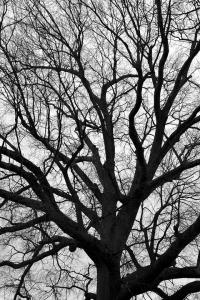 The trees: companions in my neighborhood, definers of the landscape, manifestations of God's goodness, creativity, and strength. Towering oaks, maples, aspens, birch, all tucked between the pines. These wide-reaching wonders now expose their bark, limbs and brownish cores. Orange-tan leaves that once defined them, now cover the ground and create a crunch underfoot.
It's a stripping.
And, a great modeling of love.
Therefore, you shall love the LORD, your God,
with all your heart,
and with all your soul,
and with all your strength.
Take to heart these words which I enjoin on you today.
– Deuteronomy 6:5
Radical discipleship demands a bold love from me, from you. God seems to expect the giving back of our whole selves to… [This is the beginning of a reflection I wrote for Sick Pilgrim at Patheos, about the readings for the 31st Sunday in Ordinary Time. Continue reading here.]