Porters, Posadas and our Advent invitation
"Welcome!" My Capuchin Franciscan postulant friend greeted me as he opened the large wooden door, inviting me inside from the Midwestern early-winter chill. There was a handsome plate beside the door, announcing to visitors that this large old house was the St. Conrad Priory.
"Who is St. Conrad?" I asked, stepping inside.
"He was a porter," my friend answered. "He opened the door and extended hospitality to visitors."
As we made our way into the foyer he continued, gesturing to an icon on the wall "This is Solanus Casey, who is up for canonization. We have quite a few Franciscan porter saints."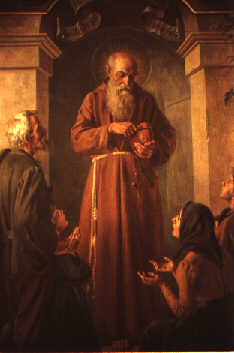 I was surprised – porter saints? Surely, it is easy to recognize and celebrate the extraordinary holiness of courageous missionaries, wise theologians, inspiring preachers, tireless pastoral workers and valiant martyrs. But porters? Why would the Church choose to lift up and honor the holiness of those who spent their lives as doorkeepers?
The unexpectedly large number of porter saints is a testament to how central hospitality is in the Judeo-Christian tradition. The refrain repeated over and over in the Hebrew Scriptures is to remember that since we were once strangers in the land of Egypt, we are to welcome strangers now. And Scripture reminds us continually that when we welcome the stranger, we welcome God. Abraham entertaining angels unaware in Genesis. Cleopas and his companion inviting the stranger on the Emmaus road in for a meal, only to discover Jesus in the breaking of the bread. Jesus insisting to his bewildered followers that when we welcome the stranger, we welcome Him.
This truth is made visible during the Advent season when Mexican and Mexican-American Catholics act out the Gospel through the practice of Las Posadas (literally, "the inns"). For nine consecutive nights, we gather to re-enact the journey of Joseph and Mary asking for shelter in Bethlehem. It is a deeply incarnational practice which literally challenges us to stand in the shoes of travel-weary Mary and Joseph, or to stand in the shoes of those in relative warmth and safety indoors that have to respond to their request.
"In the name of heaven, I ask you for shelter," a group sings in Spanish outside a locked door. "My beloved wife can travel no further."
After being turned away several times, the door is opened and the group representing the Holy Family is welcomed in joyfully. "Enter, holy pilgrims," is the jubilant refrain of those inside as they offer hospitality to the stranger – who is Christ.
During the years I worked in Hispanic parish ministry, I celebrated Las Posadas with a primarily Mexican and Central American immigrant community. During the shortest days of the year, we gathered in the dark, stamping our feet and rubbing our hands together against the cold which worked its way through our wool hats and fleecy gloves. We passed a flickering flame from taper candle to taper candle, cupping our hands to carefully guard the small flame from the December wind, the warm glow lighting our faces as we processed. My breath came out in white, cloudy puffs as I sang the familiar words of the lilting melody. And then, the open door, the sung words of welcome, the warmth and light of the parish hall, the inviting scent of steaming pots of pozole and hot chocolate, the smiling faces of friends.
Tragically, in the past weeks since the election, we have seen a heart-breaking, disturbing rash of hate crimes, many directed at immigrants, especially those from Latin America or the Middle East.
In the face of our current political and social reality, the witness of porter saints like St. Conrad and the Las Posadas tradition offer an urgent challenge and poignant invitation for Christ-followers not only to open doors and keep a safe distance, but to open ourselves to conversion through encountering the stranger. To see the stranger as a blessing, not a burden. To believe we may catch a glimpse of our God if we dare to unlatch the lock, turn the doorknob, and step onto the threshold to greet those who knock.
This advent, through my work as a Spanish-language legal interpreter, I have glimpsed God through "Catalina," a plucky, bright-eyed fifteen-year-old Central American girl. She spoke with a straight-forward, quiet confidence as she described leaving her home in the rural highlands, traveling through Mexico on buses, and entering the United States to reunite with family here.
"I wasn't scared," I said, interpreting Catalina's words from Spanish to English for the immigration lawyer. "I prayed for God to be my guide. Every time I got on a bus, I would pray for God to protect me. And my prayers were answered."
At the end of the legal consultation appointment, Catalina thanked me and clasped my hand, her bright brown eyes locking on mine with a sudden, shy seriousness.
"God is with you," she said.
Perhaps unwittingly, this immigrant teenager girl spoke the name of God that we chant, sing, and meditate upon during these Advent days of hoping and waiting: Emmanuel. God is with us.
Catalina's unexpected blessing challenges me to grow in trust and reminds me of the many ways my heart has been expanded through encountering the stranger on the threshold of an open door.
St. Conrad, and all you porter saints, pray for us that we, too, may open doors and make room for the coming of Emmanuel.
About the Rabble Rouser:
This week's guest blogger is Rhonda Miska. Like Sister Julia, this Messy Jesus Rabble Rouser is a former Jesuit Volunteer and a member of Giving Voice. She is a candidate with the Sinsinawa Dominican sisters and freelance writer who teaches religious studies at Clarke University in Dubuque (in the fine state of Iowa – Sister Julia's home state!). She studied at the Boston College School of Theology and Ministry and her past ministries include congregation-based community organizing, coordinating a winter shelter for people who are homeless, accompanying migrant children in legal proceedings, and living in a community with adults with special needs. Read more at www.clippings.me/rhondamiska.